Share Your Excitement
Excited about having a presence at the TCEA 2024 Convention & Exposition? Why not share that excitement with all your customers and followers! The convention might not be until February, but there's no need to contain your enthusiasm until the countdown ends. Go ahead and share it. Below are some useful tips and resources for you to use to share that you will be exhibiting at the 2024 TCEA Convention & Exposition.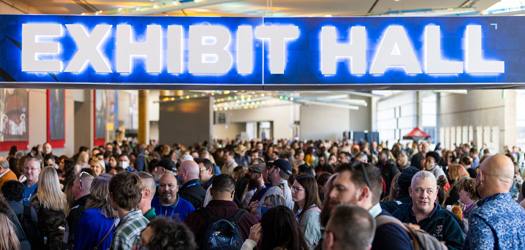 #TCEA
Follow the official hashtag #TCEA and stay up-to-date with the latest convention and ed tech news:
Show Off
Let all our followers know where to find you this February with the TCEA 2024 social media card templates. Create a custom message to drive more traffic to your booth.
TCEA Logo
The following attributes are available for your convenience as you prepare your presentation and supporting materials.
By downloading the logo files, you agree to use of the TCEA logo to only to share your booth presence at the 2024 TCEA Convention & Exposition. You may not sell, or giveaway, any product with the TCEA logo unless you have explicit approval from TCEA. The logo may also not be used in a way that suggests a partnership, sponsorship, or endorsement by or with TCEA. If you are interested in a sponsorship opportunity, please visit this page for details.
Be Unforgettable
You've made sure to connect with attendees face-to-face by booking a booth in the Exhibit Hall. Now, make plans to be an unforgettable exhibitor.
Here are some ideas for making your brand the talk of the town:
Bring your live mascot. Animals* or persons in costume are welcome!
Purchase the attendee mailing list and send targeted invites for special evening events.
Secure food and beverages with a sponsorship to attract visitors.
Create a theme for your booth! Make a memorable, visual presentation.
Let booth visitors create something or play a game.
Promote your presence and booth number on social media.
Engage your audience via email with a personal invitation.
Provided branded "freebies" to attendees who stop by your booth.
Bring in special guests or speakers.
Have giveaways or a raffle to incentivize lead captures.
Give attendees a hands-on experience. Let them play with your product!
*Some initiatives, including but not limited to live animals, minor participation, VIP guests, vehicles, and other special activities, require TCEA or venue approval.
Questions?
Email sunberhagen@tcea.org with any questions regarding your booth, exhibitor information, and/or the promotion and marketing of your booth.