Welcome to Austin, y'all.
You'll have plenty of time to appreciate the steady, uplifting beat of the arts-filled, foodie-friendly, outdoor-centric city of Austin. And don't forget! With a Saturday start, you'll get to experience weekend learning and weekend Austin. It's the best of both worlds!

The Austin Convention Center
TCEA's 2024 Convention & Exposition is conveniently located in downtown Austin, Texas at the Austin Convention Center. The convention center places you primely in the heart of downtown, just steps away from premium dining, shopping, music, and tourist attractions.
Austin Convention Center
500 E. Cesar Chavez St.
Austin, TX 78701

Visiting Austin, Texas: Embracing the Local Experience
Austin is a dynamic city offering something for everyone. Right around the corner from the Austin Convention Center, you'll have access to some of the best hot spots in town!
Stroll the trail or kayak at Lady Bird Lake.
Visit the Texas State Capitol!
Explore the unique shops and restaurants on South Congress Avenue.
Brush up on your state history at the Bullock Texas State History Museum.
Relax with a book or visit the Botanical Garden in Zilker Park.
Pop into a nearby music venue to catch a live show!
Experience 6th Street gems like Esther's Follies, Stubbs BBQ, The Parish, and more.
Whatever you do, get swept away in the fun-filled adventure of Austin. And keep it weird!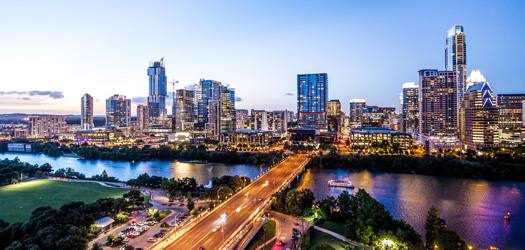 Austin-Bergstrom International Airport is approximately 15 minutes or 9.6 miles from the Austin Convention Center. There are many transportation options available to the convention center from the airport.
Through Capital Metro, Austin also provides a host of transportation options, including taxis, rideshares, pedicabs, buses, MetroRapid Route 801, and a MetroRail Service. There are also bike routes and bike and car share services available.

Exclusive Hotel Discounts for TCEA Attendees
After you register for TCEA 2024, you will receive the link to our housing site in your registration confirmation email. Book through our housing site to get access to some of the best hotels near the Austin Convention Center in the heart of downtown.
If you are an exhibitor, you can access the hotel reservation site through the Exhibitor Service Center. Once logged in, you will see a link to proceed to housing.
You will not be able to book a hotel room in the block until you have registered. Registration opens September 14.
Key Bookings is the official housing partner of the 2024 TCEA Convention & Exposition.
Starting September 14, Key Bookings will be available by phone and email to assist attendees with hotel needs.
Requests for group blocks of 10 or more rooms require TCEA approval and are subject to availability. Group block requests may be made via online form on the TCEA housing website, or by contacting Key Bookings at kbhousing@keybookings.org.
Key Bookings
Call: 877-205-2871 or 410-837-4636
Email: kbhousing@keybookings.org
Download the TCEA24 Hotel Map.
To help you plan your visit to Austin, please download the official 2024 TCEA Convention & Exposition hotel map.
TCEA's 2024 Housing Policies
Registration for the 2024 TCEA Convention & Exposition is required before reserving a hotel room. You will receive a link to the TCEA housing website after you complete your convention registration. Each attendee may make up to five room reservations.
See Full Housing Policies
All reservations must be received by January 12, 2024 to book rooms in the TCEA block at reduced rates. After this date, reservations will be made based on availability and hotels may charge higher rates.
Hotel reservations are available on a first-come, first-served basis. Book your rooms as soon as possible for the best opportunity of receiving your hotel choice.
A credit card is required to confirm all reservations. Please note that some hotels will charge this card as a required deposit. If you need to send a check deposit or payment, please contact Key Bookings at 877-205-2871 or 410-837-4636 or kbhousing@keybookings.org.
Room rates fees are subject to 17% Hotel Tax per Night (subject to change). Some hotels may also charge a State Cost Recovery fee.  If you are exempt from any taxes, please ensure you present a tax-exempt form at check-in. All applicable taxes will be included in your hotel acknowledgment.
Changes and cancellations may be made online using the reservation acknowledgment number provided on your reservation confirmation email.
Reservations may be cancelled without penalty through December 4, 2023.  Reservations cancelled between December 5, 2023 and January 12, 2024 are subject to a $100 cancellation fee for each room cancelled. If cancellation occurs after January 12, 2024, your hotel will charge one night's room and tax.
Scam Warning: Protect Yourself from Unofficial Housing Offers
Key Bookings is the official housing partner for the 2024 TCEA Convention & Exposition.
Please be aware that TCEA does not contact individuals or companies with special deals on accommodations for the 2024 TCEA Convention & Exposition. We have received notice that unaffiliated companies have contacted attendees and exhibitors offering discounted hotel reservations. These offers are scams. Individuals have reported lost deposits and fraudulent activity in connection with these activities. The only approved reservation link is the one included in your registration confirmation email.
Hotel Shuttles: Easy Access to the Convention Center
Complimentary shuttle service is provided between the Austin Convention Center and the hotels listed below.
Shuttle Route 1
Aloft/Element Austin Downtown (shuttle stop)
NOTE: Also servicing Stephen F. Austin Royal Sonesta

Omni Austin Hotel (shuttle stop)
Shuttle Route 2
Embassy Suites Austin Downtown (shuttle stop)
Shuttle Schedule
During scheduled service times, buses will run approximately every 15-20 minutes. The schedule may vary due to traffic or weather conditions.
Saturday, February 3
8 a.m. – 7 p.m.
Sunday, February 4
6:30 a.m. – 10:30 a.m.
*No mid-day service
3 p.m. – 6:30 p.m.
Monday, February 5
6:30 a.m. – 10:30 a.m.
*No mid-day service
3 p.m. – 6:30 p.m.
Tuesday, February 6
6:30 a.m. – 10:30 a.m.
*No mid-day service
3 p.m. – 6:30 p.m.
Wednesday, February 7
6:30 a.m. – 4 p.m.